Cypress is a new front-end developer-friendly test framework design designed for web automation testing. This framework is primarily intended for developer viewers and is an open source automation testing tool for testing web applications. Interestingly, Cypress is adaptive and varies faster and more reliably as it interacts with web applications and browsers. Using Cypress, users can perform all types of testing such as end-to-end, integration, and unit testing.
This article defines all the advantages of Cypress for testing web applications. By reading and modifying web traffic on the fly, Cypress not only adjusts everything that goes in or out of the browser, but also modifies codes that can interface with its ability to automate the browser. Thus, Cypress is an insightful testing tool that is suitable for all modern web application environments. Let's look at the benefits of this test automation tool.
Benefits of the Cypress web test tool
1. Cypress is a modern tool
It is an irrefutable fact that Cypress is much more universal than other automation testing frameworks as it is written in JavaScript based on Chai and Mocha. When used on the browser, it also uses Node JS. So that makes it reliable and fast for testing almost all kinds of websites, not just those written in JS. Hence, it will be the best choice if you need to test built-in apps for Instance, Angular, React, Elm, etc. With the help of Cypress test, users can also perform cross-browser testing. The test code in the Cypress website automation tool is performed in the browser.
Unlike other testing tools, Cypress does not work outside of the browser by executing isolated commands over the network. Instead, it uses an execution loop similar to your app's. It modifies or reads website traffic while running on the network layer of tests running in the browser using a built-in Node.js server.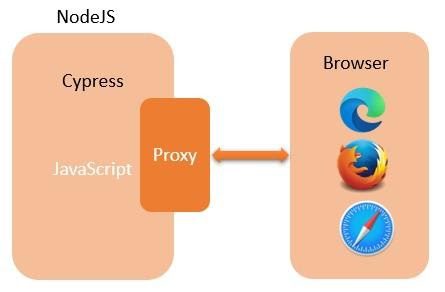 With Cypress, you can test anything that works in a web browser or mobile web view. The only restriction is the ability to test on the Chrome browser, as this can be a problem if you want to test apps with a wide variety of browsers. This can be fixed using additional tools, device farms, and browsers.
2. Cypress is quick and easy to set up
It's easier and more convenient to get started with Cypress Automation Web Testing. Selecting dependencies with Selenium has always been difficult, and it requires sound libraries for a particular project. But with Cypress it just got a lot easier and simpler. If you've never used JavaScript before, you're almost ready to take action. Based on Node.js for installing Cypress, you need to implement npm, install Cypress and everything is set up. All provinces are already in a region for the typical installation. Plus, you don't need any additional libraries, servers, drivers, test engines, or wrappers. The selections are totally up to you.
3. Cypress has the ability to debug and implement very quickly
Cypress not only makes it faster or easier for JavaScript to start automated testing, but also remains a more accessible tool for experienced QA engineers. Cypress's precise domain language is not pure JS, but is easily understood or readable and is very similar to other testing tools. You can generate your functions or methods with JS and share or leverage them across the framework.
Going deeper, debugging in Cypress is also very straightforward or easy. You can debug your web apps directly with Chrome Developer Tools while the tests are performed in the browser. But when the test fails, Cypress provides simple, readable problem text and some suggestions on how to correct the execution. In addition, Cypress offers screenshots of test failures, which makes it easier or faster to find faults or debug applications.
4. Cypress offers fast test execution
The implementation of Cypress is a very fast procedure with a response time of less than 20 MS as it automatically waits for additional weights from the DOM. This means that you don't have to show any implicit or explicit expectations. The Cypress automatically waits for things like DOM elements, loading or animation, etc.
Moreover, after completion, the framework also performs tests automatically. This eliminates downtime and the need to manually activate the next test. Cypress tracks everything in your application synchronously because it understands when the page is overloaded and when information is sending events.
Cypress could also implement most of its dominance in the browser; therefore, there would be no network lag. The tests should run as fast as the application is able to make them. To handle complex and dynamic website testing, Cypress uses test assertions to create your app's preferred state, or before continuing, it automatically waits for your app to reach that state. There is a big difference comparing it with other testing tools like Selenium.
So, with Cypress, you don't have to start your tests all over again; each file being saved automatically triggers the operation in your browser. So it might save you time.
5. Cypress has a group of active people
Cypress is an open source and free framework, so it works on the freemium model, where you can use a paid version or continue to use a free one. The paid version includes the latest aspects like a dashboard with artifacts like DOM screenshots that help with debugging and video storage. Cypress is growing day by day and boasts of being an active company on Gitter, GitHub or StackOverflow. In addition, Cypress also provides solid documentation.
6. Combines functional testing with API inspection
Cypress allows you to write many types of tests, integration tests, end-to-end tests or actually unit tests. But, this is not a tool intended for writing any of these exclusively. Their fusion is the precise strength of its frame. In addition, in Cypress, you have the ability and control to justify the behavior of functions or server responses, as is the case in unit tests.
The ability to enable end-to-end testing in Cypress is one of the biggest advantages of this framework in web testing. So you might not need to combine libraries for API testing. You can send requests on the fly during end-to-end testing. For example, through Cypress, you can use code and shorten a function to automatically connect with the request before testing the front-end app while connecting. However, that's not all, taking examples from unit testing in Cypress, you can use tokens or stubs to mimic backend behavior by unevenly fitting a few things directly to reflect the state of the. application you need in the tests. These capabilities reduce the duration of operating specifications or limit the test logic to the real intent of the test case.
7. Other outstanding features or benefits of Cypress
There are huge high end features of Cypress which provide many benefits such as:
Time travel – Cypress takes a photo while your tests are running. This is one of the aspects of the product that changes the game. It also offers great flexibility to go back in time when it comes to the implementation of commands.
Clocks, spies and heels – It monitors or verifies the behavior of timers, server responses and functions.
Handles network traffic – Manage, simply test edge and stub enclosures without including your server. You can block network traffic from the network whenever you want or need it.
Consistent results– The Cypress architecture does not use WebDriver or Selenium. This is why it is the most consistent, reliable and fastest test without flakes.
Videos or screenshots– Viewing screenshots are taken automatically during collapse and videos of your full test suite while operating from the CLI.
Cypress is all in one– Writing front-end tests requires more different tools to work collectively. With Cypress, you can get a multitude of tools in one. You do not need to install separate libraries or tools to receive your test suite configuration.
Limits of cypress
Although Cypress is an amazing tool, it has some limitations like
Final words
Cypress is a free and open source framework and considered the most important and future tool. All of these features make Cypress an end-to-end testing framework available not only to developers who want to start creating test cases, but also to professional QA engineers. Therefore, Cypress is the latest universal testing tool to use and more convenient or user friendly for everyone. Cypress offers winning aspects like real-time reloads, auto-scrolling, top-notch implementation speed, time travel, and more that aren't available on other testing tools.